The Mayor Meets the Creative Peninsula Makers
Image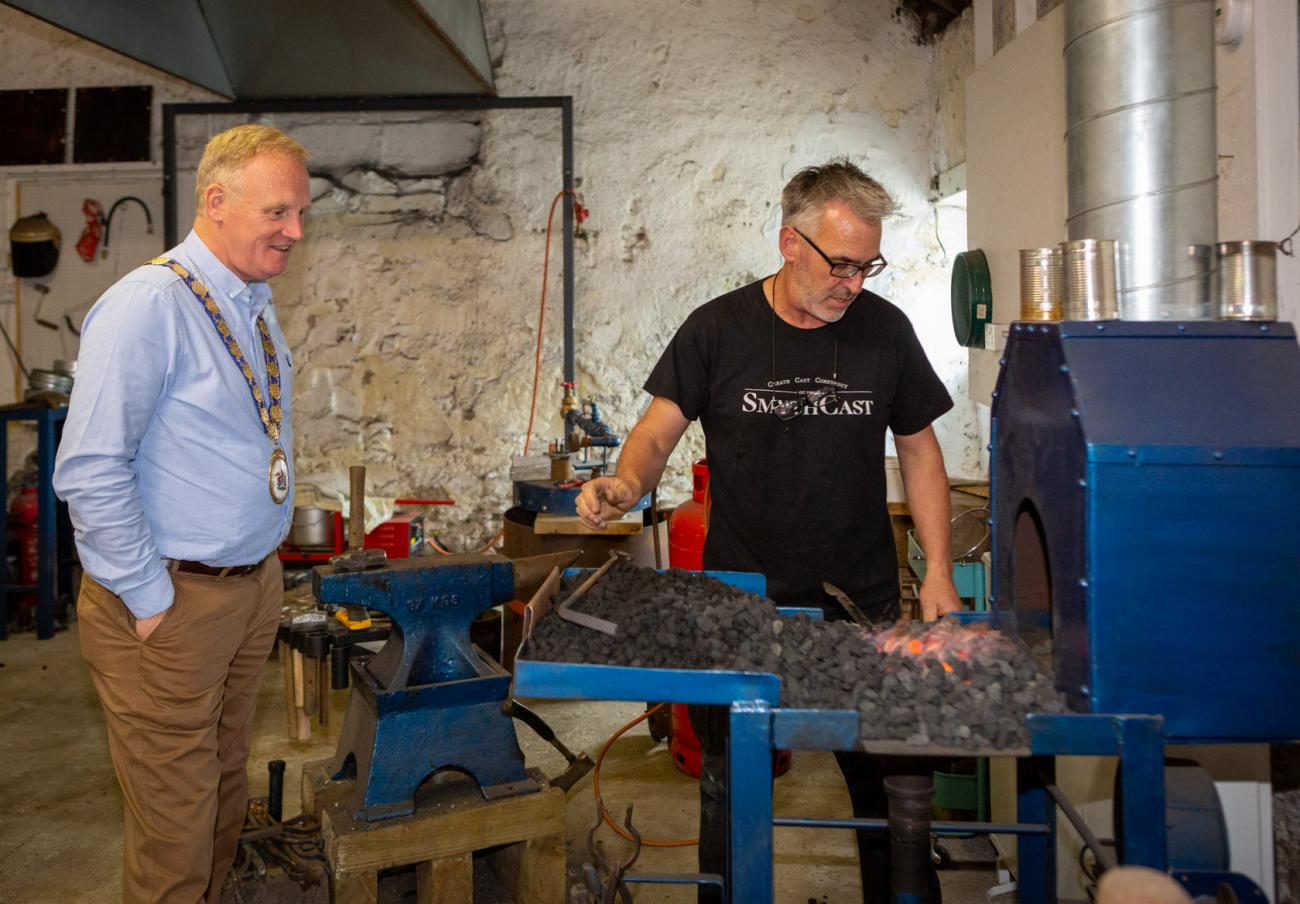 In a show of support to Creative Peninsula artists and makers, The Mayor of Ards and North Down Councillor Trevor Cummings recently paid a visit to some local artists' studios. His first stop was Boom Studios, a thriving social enterprise run by Marianne Kennerley on Main Street in Bangor where he received a tour of the premises and met some of the artists who are based there. The Mayor then visited the studio of sculptor Ned Jackson Smyth, located just outside Greyabbey. Here, The Mayor spent time learning about Ned's techniques and inspirations.
The annual Creative Peninsula festival is usually celebrated during the month of August and showcases the concentration of professional artists and makers and the high-quality art and craft produced within Ards and North Down. The Ards and North Down Borough Council initiative, which began in 2001, is one of the highlights of the Arts events calendar, and a flagship element of the national August Craft Month.
Each year around 70 local artists and makers participate in over 50 activities celebrating art and craft by facilitating taster workshops and masterclasses, demonstrating at Creative Peninsula in the Square, offering studio tours, or taking part in one of the four exhibitions. The festival has been cancelled this year due to the ongoing COVID19 situation.
Speaking about the visits; The Mayor said: "There is a tremendous amount of creative talent in Ards and North Down. I was delighted to meet a number of our local artists who gave me a tour of their studios and gave me an insight into their creations. Our Borough is a hive of artistic talent and I'm really looking forward to seeing the Creative Peninsula make a full return in 2021."
Emily Crawford, Arts and Heritage Manager for Ards and North Down Borough Council also commented:  "Although primarily a platform to encourage creative participation, sales, and the promotion of our Borough, the Creative Peninsula also provides professional development and networking opportunities for those artists and makers involved. We must acknowledge the impact that Covid-19 has had on the creative community and the lack of opportunity for engagement. Our artist's and makers have continued to work away in their studios so please think of them if you are looking for a creative gift or something for yourself or your home. We are all disappointed not to have been able to deliver the Creative Peninsula this August but look forward to returning in 2021 with even more opportunities to engage in creativity!"
Throughout the month of August, Creative Peninsula will be celebrated virtually on Ards Arts Facebook page with a series of 'Meet the Artists' posts which will give people the opportunity to learn more about the artists and makers who are involved in the initiative.