'Glenlola 125' Exhibition Opens at North Down Museum
Image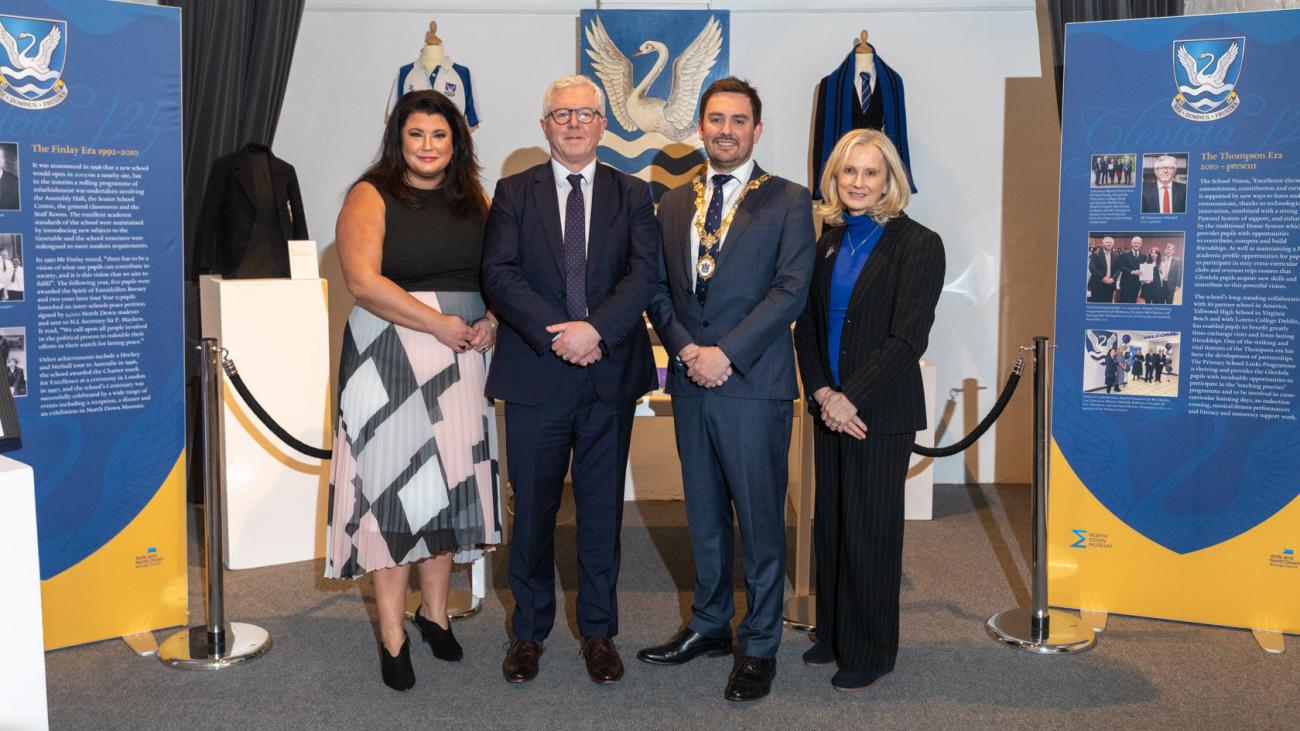 This year, 2023, sees Bangor's Glenlola Collegiate School celebrate its 125th Anniversary and to mark the occasion a special exhibition has opened at North Down Museum.
Glenlola Collegiate as we know it today was established in 1957 following the merger of Glenlola School and Bangor Ladies Collegiate, though the two schools did not occupy the one site until 1963 when the new building on Castle Park Road was formally opened. In 2003, the school's present-day building opened on Valentine Road.
The 'Glenlola 125' exhibition will bring together the history and stories of the school, its teaching staff and pupils from past and present. Visitors can explore each era of the school under its respective principals and its different locations and learn about the school's achievements throughout the years.
Speaking about the exhibition, Deputy Mayor of Ards and North Down, Councillor Craig Blaney said: Glenlola Collegiate School has such a rich and fascinating history, and it is fantastic to see this exhibition on display at North Down Museum. I am sure many local residents will enjoy reliving their school years through the photos and memorabilia and we would encourage everyone to come along and visit this wonderful display."
Glenlola Collegiate Headmaster, Mr Thompson said:
"I am delighted that the staff of North Down Museum have supported us so fully in celebrating the 125th anniversary of Glenlola. We are looking forward to the exhibition, which highlights the central place in the Bangor community that the school has occupied for over a century. We hope and trust that friends of the school, pupils past and present and members of the Bangor community will enjoy this exhibition and that it will bring back happy memories for many."
Victoria Donnan, E-Learning Co-Ordinator at Glenlola who helped create the exhibition commented:
"As a former student and House Captain at Glenlola Collegiate School from 1993 to 2000, it has been an honour to contribute to the Glenlola 125 exhibition as a member of staff. As a Middle School student, I recall the centennial celebrations held in 1997, and I still have the commemorative badge that was presented to me on my desk. Glenlola Collegiate holds a special place in the hearts of so many former students, staff, and parents around the world. In preparation for this occasion, it has been a privilege to receive so many letters and emails sharing wonderful memories of their time spent here. We have spent the past year planning for this exhibition and are thrilled to share our rich history with the local community and beyond."
The exhibition runs from 12 January to 5 March 2023 in North Down Museum's Long Gallery. Admission is free.
Photo Caption:
Pictured at the launch of the 'Glenlola 125' Exhibition at North Down Museum; Victoria Donnan, E-Learning Co-ordinator at Glenlola Collegiate School, Eric Thompson, Principal, Glenlola Collegiate School, the Deputy Mayor of Ards and North Down, Councillor Craig Blaney and Linda McCombe, former English teacher and Head of English Department at Glenlola.
You might also like
Made in AND Late-Night Christmas Shopping

-

Creative Peninsula Christmas Fayre

-

Creative Peninsula Christmas Fayre

-

Christmas Willow Wreath Making

-