Blue Plaque Commemorating Viscount Castlereagh Unveiled in Newtownards
Image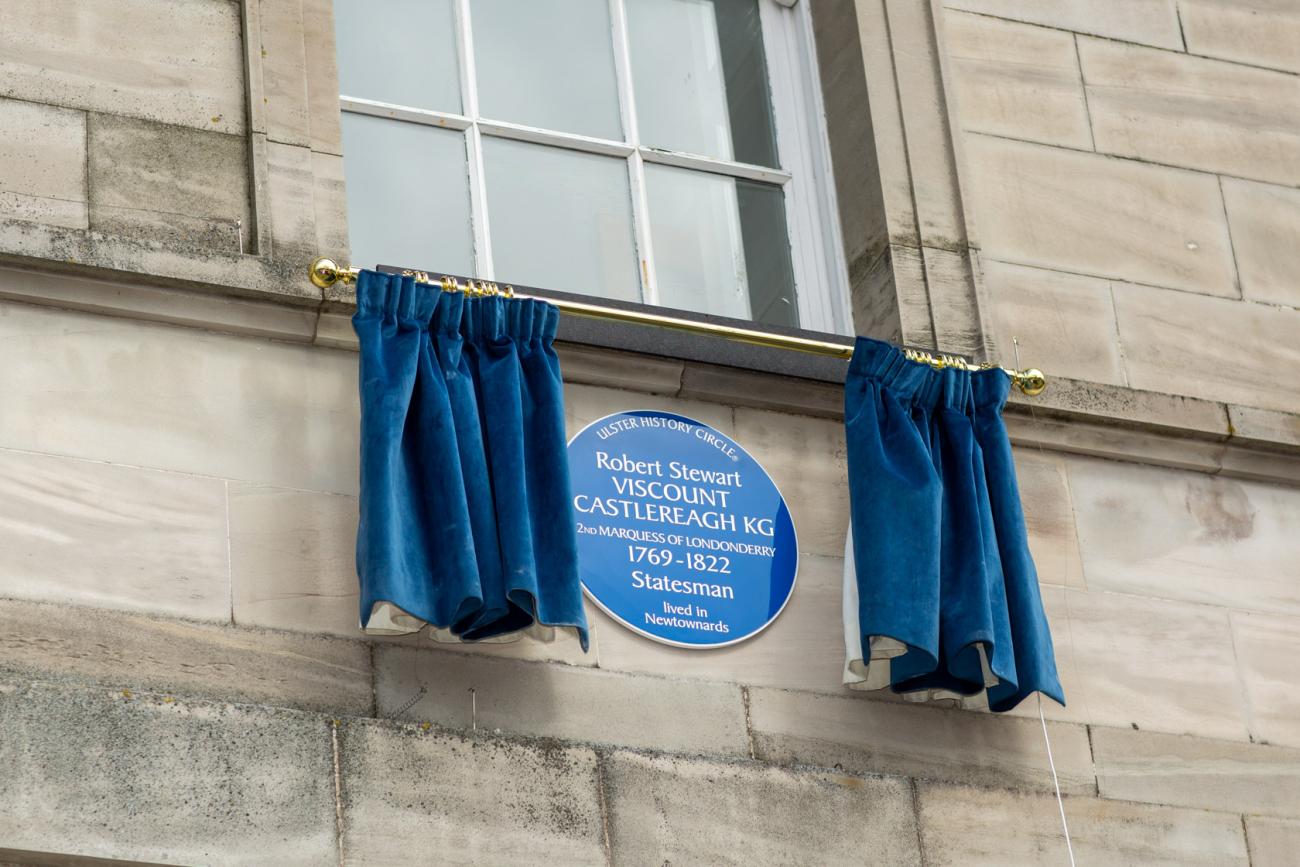 The Ulster History Circle and Ards and North Down Borough Council have unveiled a blue plaque to commemorate Robert Stewart, Viscount Castlereagh and 2nd Marquess of Londonderry. The unveiling took place on Wednesday, 19 April at Ards Art Centre, Town Hall, Conway Square, Newtownards.
Among the guests who attended the event were The Lord Lieutenant of County Down, Gawn Rowan Hamilton, The Mayor of Ards and North Down, Councillor Karen Douglas, Lady Rose and Peter Lauritzen from Mount Stewart Estate and High Sheriff of County Down, Mike Mawhinney.
Speaking about the unveiling, The Mayor said:
"I was delighted to unveil this blue plaque to commemorate and mark the 200th anniversary of the death of Robert Stewart, Viscount Castlereagh who spent his early years in Newtownards before making Mount Stewart his home. It is fitting that the plaque be placed on this historical building which has links with the Stewart family, and I hope it serves to remind local people of Castlereagh's legacy. I would like to especially thank the Ulster History Circle and Mount Stewart for all of their assistance in making the blue plaque possible."
Robert Stewart, Viscount Castlereagh was born on 18 June 1769 in Dublin. His father was Robert the first Marquess of Londonderry and his mother, Lady Frances Seymour Conway Stewart. Robert spent his early childhood in Newtownards before moving to Mount Stewart, receiving his education at Royal School Armagh. In 1786, he left Armagh to further his education at St John's College, Cambridge. In 1790, he won his father's old seat as MP for County Down and entered the Irish Parliament.
Four years later, Robert married lady Amelia Anne Hobart. Viscount Castlereagh's long career saw him as Chief Secretary of State for Ireland during the Act of Union in 1801, President of the Board of Control, Secretary of State for War and the Colonies and the architect of the Treaty of Vienna, which brought peace to Europe.
Often described as one of the most influential and distinguished Foreign Secretaries, he was Secretary of State for Foreign Affairs from 1812 to 1822 and Leader of the House of Commons for the same period. He died on 12 August 1822 and was buried with honours at Westminster Abbey, London.
An exhibition exploring the life and political career of Viscount Castlereagh is currently on display in Newtownards Library.
//ends//
Photo Caption:
The Mayor of Ards and North Down Councillor Karen Douglas with Lady Rose and Peter Lauritzen of Mount Stewart Estate and Chris Spurr, Chairman of the Ulster History Circle, pictured at the unveiling of a blue plaque to commemorate Robert Stewart, Viscount Castlereagh at Ards Arts Centre, Town Hall, Newtownards on Wednesday 19 April, 2023.
You might also like
Made in AND Late-Night Christmas Shopping

-

Creative Peninsula Christmas Fayre

-

Creative Peninsula Christmas Fayre

-

Christmas Willow Wreath Making

-